Marseille, the 16/02/2018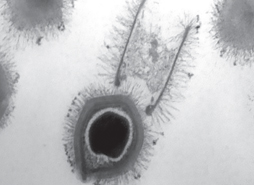 Jônatas Abrahão, Lorena Silva, Ludmila Santos Silva, Jacques Yaacoub Bou Khalil, Rodrigo Rodrigues, Thalita Arantes, Felipe Assis, Paulo Boratto, Miguel Andrade, Erna Geessien Kroon, Bergmann Ribeiro, Ivan Bergier, Herve Seligmann, Eric Ghigo, Philippe Colson, Anthony Levasseur, Guido Kroemer, Didier Raoult, Bernard La Scola. Tailed giant Tupanvirus possesses the most complete translational apparatus of the known virosphere.
Nature Communication. Février 2018.
(1) La Scola B, Audic S, Robert C, Jungang L, de Lamballerie X, Drancourt M, Birtles R, Claverie JM, Raoult D. 2003. A giant virus in amoeba. Science, 299(5615):2033.
Raoult, D., Audic, S., Robert, C., Abergel, C., Renesto, P., Ogata, H., La, S.B., Suzan, M., & Claverie, J.M. 2004. The 1.2-megabase genome sequence of Mimivirus. Science, 306, (5700) 1344.
(2) La Scola B, Desnues C, Pagnier I, Robert C, Barrassi L, Fournous G, Merchat M, SuzanMonti M, Forterre P, Koonin E, Raoult D. 2008. The virophage as a unique parasite of the giant mimivirus. Nature, 455, (7209) 100.
(3) Levasseur A, Bekliz M, Chabrière C, Pontarotti P, La Scola B, Raoult D. MIMIVIRE a defence system in Mimivirus confers resistance to virophage. Nature, 2016. 531(7593):249.
Contacts chercheurs :
Pr Bernard La Scola et Pr Didier Raoult
Unité de recherche Microbes, Evolution, Phylogénie et Infections (MEPHI)
AixMarseille Université / IRD/AP-HM
IHU Méditerranée Infection
19-21 Bd Jean Moulin
13005 Marseille
Tel.: (33) 4 13 73 24 01
E-mail: bernard.la-scola@univ-amu.fr, didier.raoult@gmail.com,
Contact presse :
Dr Sophie EDOUARD
IHU Méditerranée Infection
Directrice de la communication, IHU Méditerrané Infection
19-21 Bd Jean Moulin
13005 Marseille
Tel.: 04 13 73 23 15
E-mail: sophie.edouard@univ-amu.fr