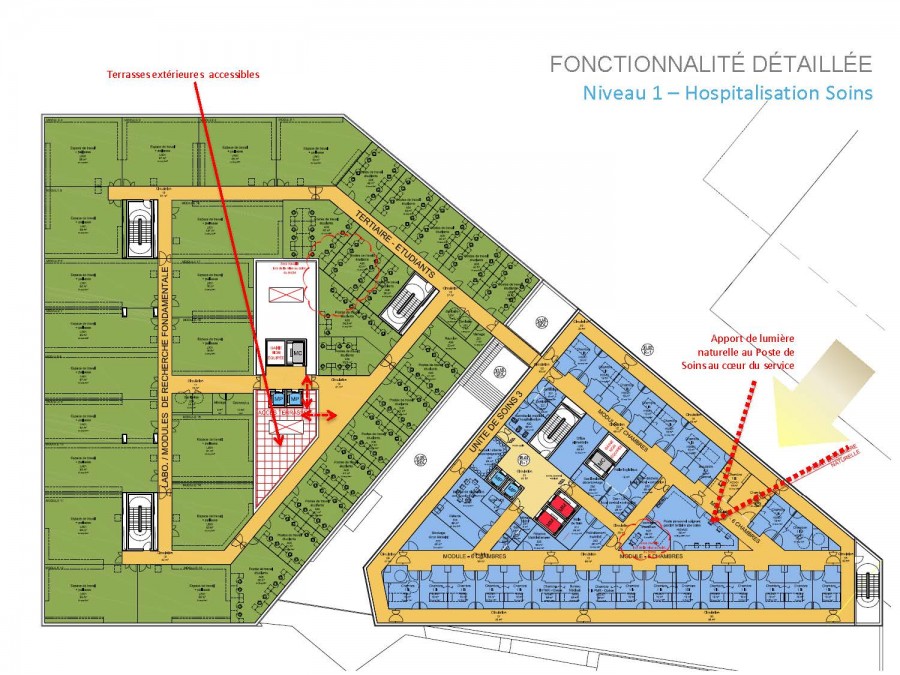 The origin of the "Méditerranée Infection" project is based on the idea that advances within in the field of infectious diseases require for research, epidemiological surveillance, diagnosis and care to be gathered together on a single site.
Planned for an opening in 2015, a building is being designed to reunite the active forces of these different sectors, with technical characteristics adapted to each sector's specific objectives:
An intelligent building of 21 186 m2 organised as follows
9 589 m² dedicated to diagnosis, research and education, including 470 m² of office space for industrial partners
3 113 m² dedicated to care, with about 75 beds for inpatient hospital, including 25 beds of day care hospital and 25 beds in highly isolated units (BSL3)
Employing approximately 700 personnel: 500 for hospital (AP-HM), 200 for Aix-Marseilles University and the different research structures (INSERM, CNRS, IRD …)
Premises especially designed to prevent and manage epidemic crisis
A system of containment incorporated to highly contagious premises (BSL3) (isolation rooms, laboratories, insectariums, strain collection, etc.), with a system of atmospheric depression inside the containment area, the air being filtered inside and outside the room
Infrared gates at the entrance to detect febrile staff and patients
The installation of RFID chips for real-time tracking of people and materials' movements for a highest management of the risks of infection, and a network of internal communication through videoconferencing and wifi
Research on all fronts
Containment laboratories P2 and P3, shared platforms with breeding farm, biobank, veterinary department to develop exhaustive diagnosis tools and test devices, from sample to result; a Humanities and Social Sciences department to analyse the disease's experience and social representations, prevention behaviours, care, as well as the economic factors of the disease and health care; a sector whose performance is increased by encounters of researchers coming from different backgrounds.
The economic development at the core of the IHU
The physical presence of industrial partners within the IHU for a practical management of transfer to industry; a space dedicated to the incubation of start-ups and spin-offs, as well as the implementation of a transparent management of conflicts of interest.